BIGGER CYLINDERS
Our masterful Schweiss design utilizes a larger cylinder with spherical bearings on both ends. Our larger cylinders combined with spherical bearings are designed to maintain absolute stability during movement. Preventing bowing and breaking, our cylinders ensure a longer-lasting safer hydraulic door.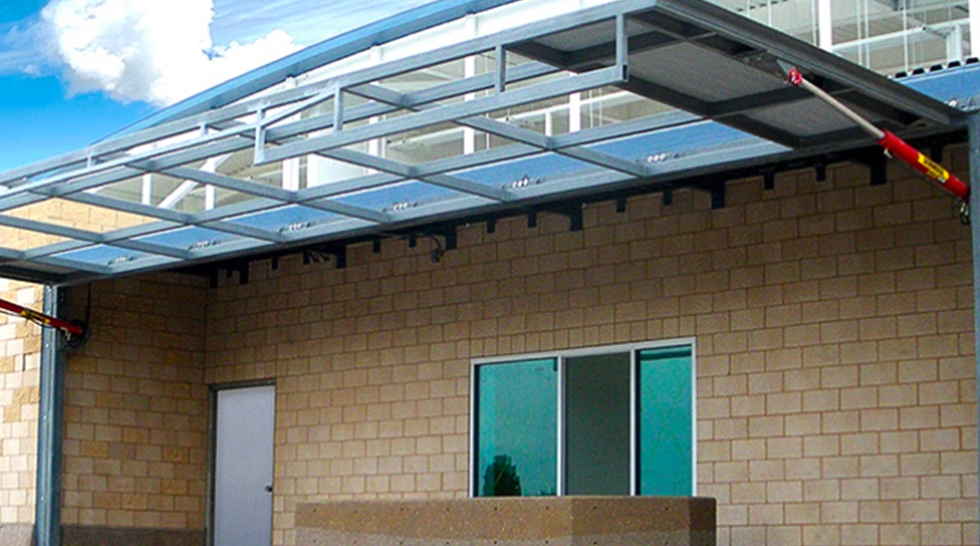 Hydraulic Cylinders
-
Better, Stronger Cylinders
Unique Design
Through our experience, we have learned about the importance of flexibility when it comes to large, strong hydraulic doors. Cylinders are not designed to bow, so when hydraulic cylinders are put to the test against a large, steel-framed door bowing becomes a concern - one that we address.
Through our years of experience we have found the key to long-lasting Hydraulic doors: spherical bearings. Our larger cylinders combined with using spherical bearings on both ends of the cylinder provide more flexibility for the door.. This unique design has helped us find success when it comes to making high quality, lasting hydraulic doors.
Our Schweiss Hydraulic Cylinder Design Works to:
• Reduce wear on cylinders, cylinder pins, and clevises during operation
• Maintain straight cylinders & rods through a full range of motion
• Reduce bow and binding of cylinders and rods
• Ensure pins have even forces on them when the door is in any position
"As soon as I saw and understood the spherical bearings design it was a no-brainer. I was immediately SOLD on the Schweiss Hydraulic Door !"

Larger, Higher Quality Cylinders
At Schweiss, we build our doors stronger and with high-quality materials to ensure many years of trouble-free operation. All of our doors are made with a self-supporting subframe making the doors large and heavy. With heavy-duty doors, it is incredibly important to have capable hydraulic cylinders because it takes large cylinders to open large doors!
We pair each of our doors with two large hydraulic cylinders fitted with large rods as well as double push tubes all for added strength. We attach the cylinders to the vertical subframe on each end of the door for added durability and a watertight seal! The unique design of our Schweiss hydraulic cylinders gets the job done every time.
Spherical Bearings
Spherical bearings are an important part of the door. Here's why:
The hydraulic cylinders on each side of the hydraulic door are connected to the frame and the building using spherical bearings. The role of the spherical bearings is to accommodate the flexibility of the hydraulic doorframe while still allowing the cylinders to raise and lower the door. Since the bearings are placed between the teardrop area and cylinder plate they aid the cylinders without binding on the hydraulic cylinder pins and brackets. The use of spherical bearings in the Schweiss hydraulic cylinder design helps to provide more flexibility on both ends of the hydraulic cylinder, allowing it to stay straight through its full range of motion.
The Schweiss Hydraulic Advantage: Stronger cylinders and a better design = a safer hydraulic door!
Better Pump
Schweiss pump systems are easy to operate, powerful, and most importantly reliable. Our innovative hydropower technology delivers maximum safety and poser, capable of lifting hydraulic hangar doors of all sizes. Each pump comes standard with oil filters to clean your hydraulic fluid and extend the life of your pump!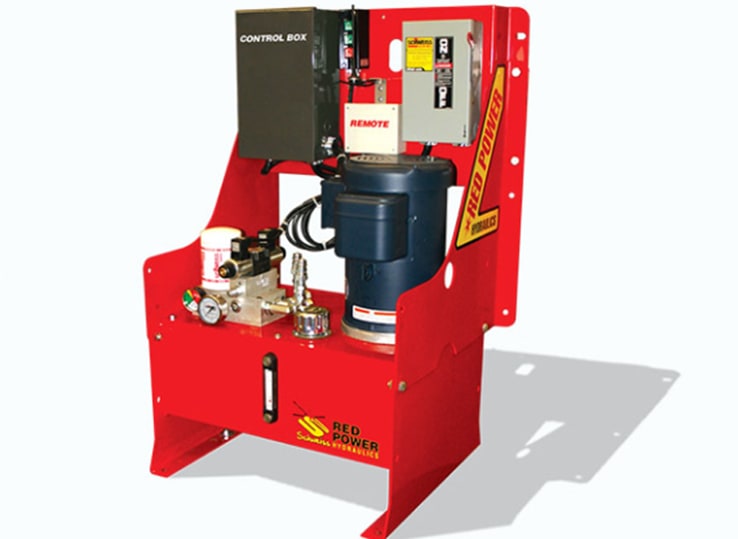 Hydraulic Power Pump
-
Unmatched Power and Reliability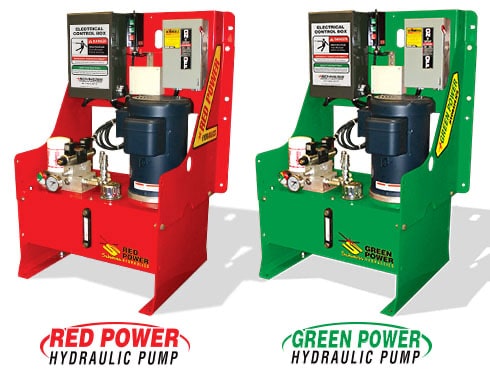 RED POWER - MOTORS
Schweiss Hydrauilc Doors uses top-quality brand name hydraulic pumps for overhead doors. These Red Power Motors are heavy duty, totally enclosed / fan cooled (TEFC), with a common 56C face mount and standard shaft size, powering a single gear-driven pump. Plus, these quality continuous duty motors are safety-backed with fused and overload protected.
RED POWER - ELECTRICAL
The Schweiss Red Power pump/motor system from Schweiss Doors offers superior electrical components that stand leagues above the competition. Why? Our Red Power motors come equipped with a standalone electrical control box. Schweiss Doors powerful Red Power motor system is designed with safe UL listed components. Plus, it's composed of only common components, standard in the electrical industry throughout the world. These electrical control boxes are also designed with ample space to safely house all required electrical components, such as contactors, transformers, relays, motor timers, rectifiers, and control fuses.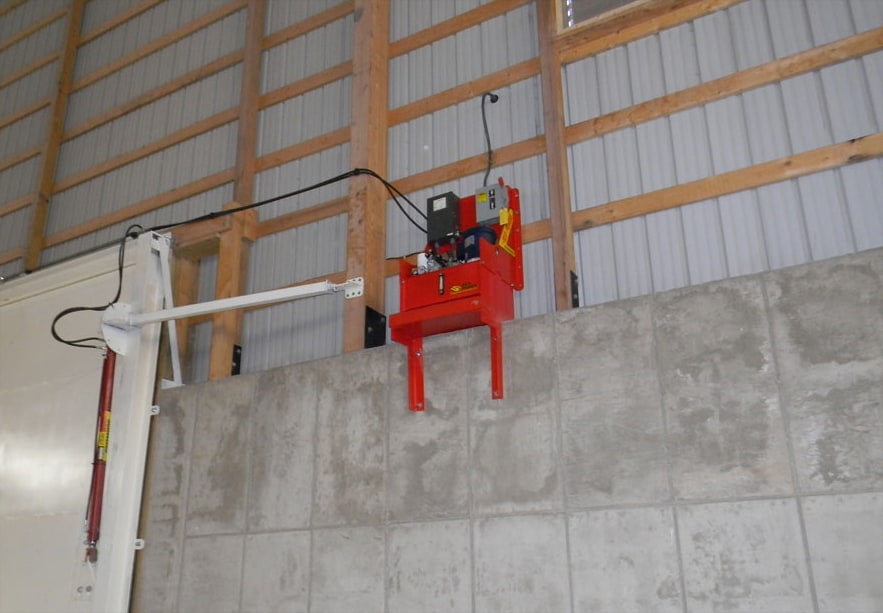 RED POWER - LOCATION
Mount the Schweiss hydraulic pump for your overhead door where you want it! Some customers want a floor mount, others want a wall mount, whether top-hung or under-hung brackets, it's all included with each Red Power Hydraulic Pump Unit. Schweiss' flexible electrical system allows you to position the hydraulic pump for an overhead door in a back room, side room, or anywhere else in your building - you have options! Get this: No matter where the electrical system resides, your control station can and will always be near your door, for the ultimate in safe operation. Mounting Styles: Wall Mount / Floor Mount / Under the Bench / Back Room
THE RED POWER - SAFETY ADVANTAGE
Comes Standard with each Schweiss Red Power Hydraulic Motor/Pump System
• Locks door up and down, holds door safely in all positions
• Locks and holds the door in the closed position so it never creeps open
• Door opens evenly and closes evenly
• Allows you to safely emergency lower the door, from the ground level, no ladders are needed
• Prevents thermal expansion in the cylinders. . . releases excess pressure, and oil back into the tank
• Hydraulic directional control valve has a built in manual override in case the coil burns out.
you can push the override on the valves manually to get the door to move either direction
• Low voltage control stations.. only 24 volts DC (much safer)
• Low voltage coils. . . Lighted 24 volt DC coil connectors (safer to work around)
• Bigger Motors / Standard Motors / Better Pumps / Better Electrical Package
• Red Power Reservoir / Red Power Designed
• All the Red Power safety advantages in one complete package
RED POWER - COMMERCIAL HYDRAULIC PUMPS FOR OVERHEAD DOORS
The Schweiss Red Power manifold has a clean, crisp design, featuring a polished finish with no exposed plumbing lines. Includes a filter clogging indicator telling you when to change your filter element and a filter drain port that allows oil to drain back into the tank, before removing and changing the filter element, reducing any chance of an oil mess. 3000 PSI pressure gauge is standard, gives you the reading of the pump pressure used to open the door. Auxiliary Oil Filter - Easy Screw on oil filter that is easy to change. Clean Look, Best Quality Filter that protects the hydraulic pump from impurities. Oil Filler / Breather Cap / Filler Port. Rich-looking polished finish, easy screw on cap with a built in screen to help keep debris out, important when adding oil. Sight Glass displays the oil level and temperature in the oil reservoir tank all in one. Red Power Hydraulic oil reservoir with heavy duty long lasting powder coated reservoir tank and drain plug.
RED POWER - OUR PUMPS ARE 95% EFFICIENT
Single Gear Pumps are pressure-loaded and 95% efficient. Our pressure-loaded gear pump operates at 1800 RPM and is so quiet, you hardly hear it running.
A Well-Thought-Out Design
1. They're Powerful! -

We're talking the most efficient pumps, with standard motors designed ready to lift any size door, at any time, all the time!
2. They're Reliable! -

Schweiss Doors cares about quality. We only offer safe, carefully designed hydraulic pumps for overhead doors that operate at 95% efficiency. Don't settle for less!
3. They're Quiet! -

This amazingly smooth, quietly operating pump system didn't just happen on its own! Schweiss Doors knows what you need, so we provide it - every time!

You get powerful motors PLUS smoothly operating Pumps - all running at 1800 RPM. We're not kidding - this system was absolutely designed for quiet and smooth operation!

They're shipped as a complete "Red Power" package. Red Power Hydraulic Units have it all: removable electrical panels that contain the control box, remote controls, fused disconnect, removable hanging brackets, foot mount brackets, removable safety catch basin and so much more.

You get it all with the Red Power Pump/Motor Hydraulic System from Schweiss Doors - a compact hydraulic power package, complete with hydraulic pump for overhead doors, all gauges and so much more - all in one neat unit, Red Power Hydraulics shipped as a complete package!

Red Power - Featuring 3 Backup Systems All On One Unit
1. DC Battery-Motorized Backup:

Picture this: you experience a power outage. You pick up the battery backup pendant, press "up" and your hydraulic door opens using only battery power! Simple, clean, reliable design you control your door through a battery backup control station. Easy and effective!
2. Drill Driven Backup Our Red Power:

Unit is also designed with a Drill Driven Backup: using a 7/16" hex head, just attach a socket to raise and lower your door at any time or from any position. Easy and reliable backup!
3. Tractor Fittings:

Tractor Fittings come standard on each Red Power Unit. Using the Tractor Hydraulics, you can raise and lower your hydraulic door if all else fails.
RED POWER - EMERGENCY DOOR
Lowering your door is as simple as turning a screw. In case of an unexpected electrical problem, power outage, or motor or pump problem - Don't Worry! You can still close your large commercial Schweiss hydraulic door! Seriously Simple: just turn a screw on the hydraulic pump for the overhead door. That's right - it's that easy! No mess, no oil drains back into the tank - and best of all, your large moving door closes at a controlled, safe speed, no matter the situation or emergency.
Schweiss Hydraulic Door Pump Power Unit
Schweiss Hydraulic doors offer many advantages over the more traditional styles of doors that are on the market today. Schweiss Hydraulic doors are a simple and efficient design. Every Schweiss hydraulic door is built using the highest quality components available to ensure your door works properly every time. Hydraulic doors from Schweiss come with a high quality electric power unit and pump. Every hydraulic pump for an overhead door comes pre-wired and ready to operate from the factory. All Schweiss hydraulic doors feature an electrical disconnect and a "dead man" control station to ensure the safe operation of our doors. The electrical system is built to easily allow many upgrades to your hydraulic door such as remote controls or a safety edge.
EACH SCHWEISS HYDRAULIC PUMP COMES
Standard with oil filter to clean your hydraulic fluid and extended the life of your pump. With our universal bracket, your hydraulic pump can be mounted anywhere in your building, giving you a nice, clean look. Each hydraulic pump for overhead doors also comes with a seven-year warranty.
Bigger, Heavier Hinges
Schweiss' heavy-duty hydraulic door frame hinges are strong and durable. A hinge is an especially important part of any hydraulic door because of the heavy load they bear when the hydraulic door is in motion. Our unique wrap-around hinge design adds extra strength to the hinge, ensuring proper alignment and optimal performance when lifting the hydraulic door. Schweiss removable hinge pins are easy to grease and maintain to extend the life of the hydraulic door.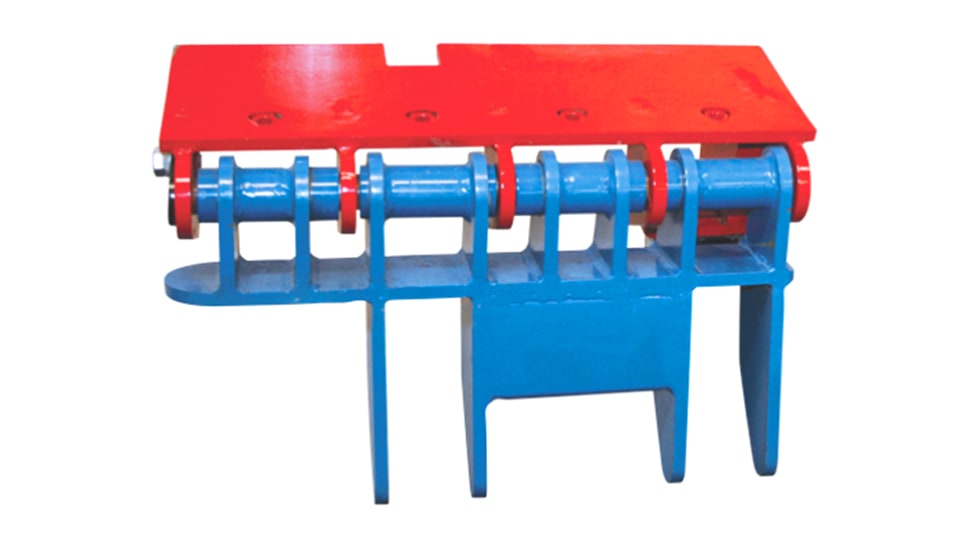 HYDRAULIC HINGES
-
Schweiss Robust Hinges
Hinge design is extremely important to a durable hydraulic door because the hinges bear a heavy load when the door is moving.
Schweiss Hydraulic doors only have one top set of hinges. These hinges need to be strong enough to support the door weight and cylinder forces while moving. The unique hinge design incorporates heavy hinge plates that wrap around each vertical push tube for added strength and rigidity when opening and lifting the large hydraulic door.
Schweiss uses double push tubes that are tied directly into the wrap-around hinges, which connect both vertical push tubes directly to the header tube. This provides you the advantage of having the forces of hydraulic cylinders being evenly distributed to the doorframe and the wrap-around hinges. This makes the door much more reliable and reduces the risk of your door being torn off from the doorframe due to uneven distribution.
Schweiss Hydraulic Doors are large, so you need a strong hinge to handle them effectively. Every Schweiss hydraulic door has a self-supporting subframe that distributes the door load evenly across the frame. Not only does this reduce stress on your door, but it is also much better for your building. When it comes to creating frames that are bigger, stronger, heavier, and just better overall, Schweiss hydraulic hinges are the only answer.
"THE HINGE MAKES THE DOOR"
Since doors are always moving and flexing, using spherical bearings can reduce the stress and wear on the cylinders, cylinder pins, and clevises during operation of the door.
Schweiss Hydraulic doors are larger than regular doors, which means that the hydraulic door frame will flex more during operation than a regular door would. By using spherical bearings, Schweiss is able to accommodate the flexibility of the hydraulic doorframe and let the cylinders raise and lower the door without binding on the hydraulic cylinder pins and brackets. This feature is only available on Schweiss Hydraulic Doors, so take advantage today!
Removable Hinge Pins
• A wrap-around design evenly distributes the weight of the door to the hinges and door frame while opening and lifting the door.
• Uses heavy duty hinges with no bushings to wear thin.
• Removable hinge pins are easy to maintain; welded in pins cannot be greased.
• Grease extends the life of the hinges and the door.
Better Quality
When you choose Schweiss, you can count on superior quality and support. We pride ourselves on our excellent craftsmanship and customer service. We work with our customers to custom design their hydraulic door using top quality products and materials. Our Schweiss hydraulic doors are built to last longer, run powerfully, and work safely.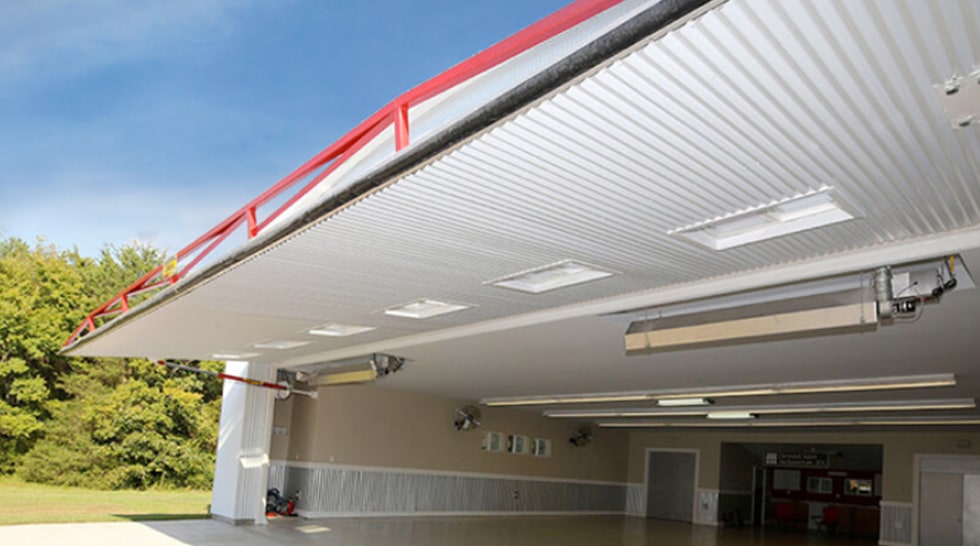 HYDRAULIC DOOR QUALITY
-
Hydraulic Door Quality
Quality is the number one reason why Schweiss hydraulic doors have become the industry standard. Other companies can build hydraulic doors, but at Schweiss, our quality overhead hydraulic doors are built for years of high-performance with the right materials and the right design. Schweiss has been committed to using only the highest quality materials and components since day one. Our high-quality components combined with research on hydraulic door design has given us a solution for a longer-lasting and overall better door.
This commitment to making quality overhead doors is evident in the fact that the first door built by Schweiss over three decades ago is still working to this day.
THE SCHWEISS 7-YEAR WARRANTY
Schweiss is so confident in our hydraulic overhead door quality that we have a 7-year warranty on all hydraulic power units that we sell. We put in custom-made hydraulic door features you won't find anywhere on the market because our commitment to providing clients with high-quality, lasting hydraulic doors is our top priority. Schweiss is committed to serving our customers long after the sale.
SCHWEISS OFFERS
• 7-year warranty on all hydraulic power units
• Superior engineering and over three decades of experience
• Custom sizing, design and manufacturing
• Detailed specs with each door that outline weights and forces
• The highest quality hydraulic doors on the market today
• Large cylinders and heavy-duty hydraulic pumps
• Solid, weather-tight sealing
• Low maintenance costs
• Pre-assembled, pre-welded and pre-hung doors with hassle-free installation
• Reliable service and long-term customer care
Do you want upgrades and options? You got it! Give us a call and let Schweiss Hydraulic Doors custom design your perfect hydraulic door today!
Upgrades & Options
With Schweiss, you've got plenty of choices when it comes to additional upgrades, options, and features. We woork with you to help design the perfect hydraulic door, and our hydraulic doors can be designed to match any exterior and built to space our clients desire. A few of the many features offered include windows, insulation, decorative siding, and added doors for accessibility. See which features work best for your need!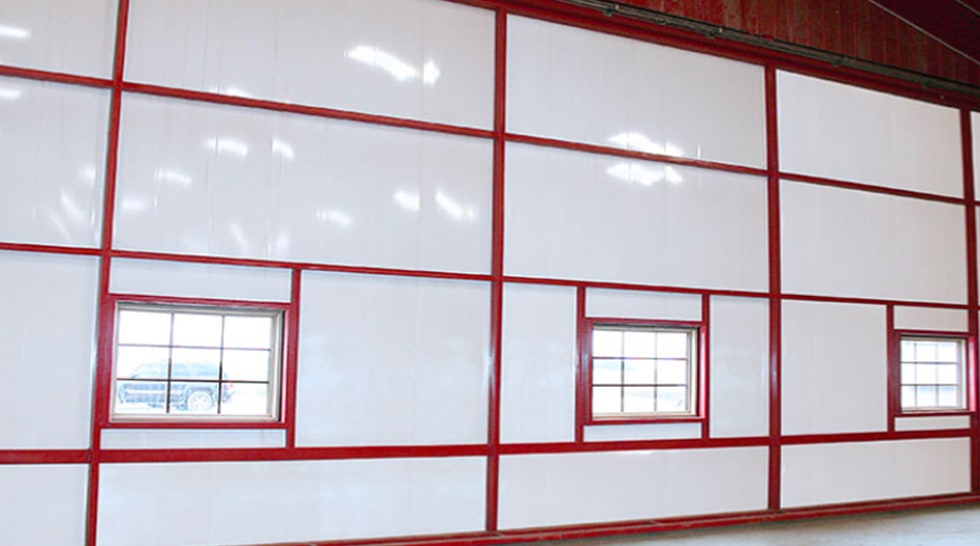 Schweiss Hydraulic Door Features
-
Schweiss Hydraulic Doors Are Trustworthy & reliable
You can always trust Schweiss Hydraulic Doors for your commercial and industrial overhead door needs because we custom build every single hydraulic door we manufacture - and we stand behind our quality craftsmanship. We know what our customers want: Commercial one-piece hydraulic doors and bifold doors that outperform ANY other door on the market.
Agricultural, commercial, aviation, industrial or custom made, we create unique architectural beauty for any application - you think it; we build it! That's the Schweiss hydraulic door advantage! Plus, when you go with Schweiss, you know you're getting unparalleled quality, service and support. Every door, every time - that's Schweiss quality you can depend on.
Upgrades? Options? You got it! Call us today to experience Schweiss Hydraulic Doors for yourself. We're ready to answer any of your questions regarding one-piece overhead doors or bifold doors. Let Schweiss Hydraulic Doors custom manufacture your perfect hydraulic door or bifold door today!
SCHWEISS HYDRAULIC DOOR BENEFITS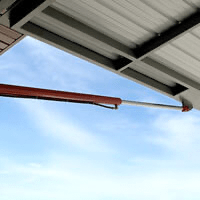 BIGGER CYLINDERS
The Schweiss hydraulic door design uses larger cylinders with spherical bearings on both ends of the cylinder, allowing it to stay straight through its full range of motion.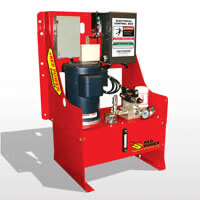 BETTER PUMP
Efficient, safe and powerful pumps designed to lift any size hydraulic door. Built with reliability that gives you low maintenance costs, Schweiss saves you money long term.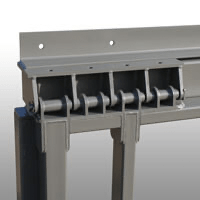 BIGGER HEAVIER HINGES
Superior engineering by experienced craftsmen. Schweiss hydraulic door frames have factory pre-located, extra heavy hinges to ensure proper alignment and performance.
Weather Tight
The hydraulic cylinders pulls the door secure against the building, which creates optimal weather-tight protection. Whatever you store in your building will be totally protected from the elements.
WHY SCHWEISS HYDRAULIC DOORS?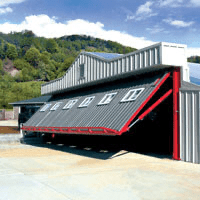 BETTER QUALITY
When you go with Schweiss Hydraulic Doors, you know you're getting unparalleled quality, service and support. We have reliable service and quality customer care you can count on.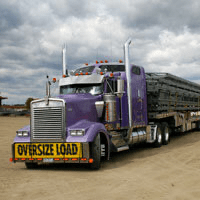 SUPERIOR DELIVERY
We deliver materials and products in manufacturer's labeled protective packages and ship via semi flatbed trucks nationally or common carrier internationally.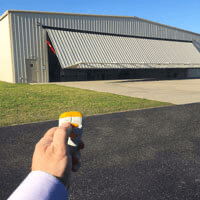 UPGRADES & OPTIONS
Upgrades? Options? You got it! Call us today to experience Schweiss Hydraulic Doors for yourself. We're ready to answer any of your hydraulic door questions.