News
Schweiss Builds Easy Access Hydraulic Container Doors
Hydraulic Doors
Schweiss Doors now specializes in customizing containers to accept hydraulic doors to open up the entire side and/or both ends for easy access. In addition to these hydrualic doors, Schweiss can also build an attached lifting exterior deck on your container that will lift up or down at the touch of a button.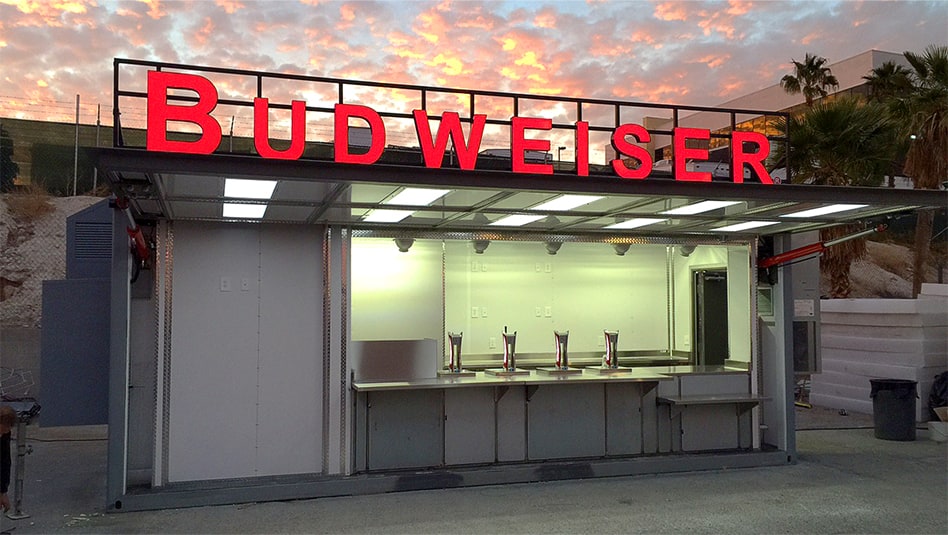 "
"
The reason we used Schweiss doors was so we could use whatever cladding we wanted on the frame. We wanted to have super-thick insulation because we were going for Net Zero. We put R-30 insulated metal sandwich panels on the frame - that's the only way we could get that degree of insulation on a wide door. Also, the doors open to the outside, so they don't interfere with the bridge crane or overhead infrared heating we had. Everybody involved was impressed with them.
Michael Shea
Portland, Oregon
Schweiss storage containers are perfect for a number of uses such as secure mobile offices, portable sheds, workshops, hunting shacks, food stands, etc.
At the top of each container hydraulic door cylinder is a motor rated to lift 5,000 lbs. The DC drive utilizes 110 Volt AC power. Where there is no access to electricity, the hydraulic door can be manually run with a cordless drill or generator setup.
Hydraulic doors are constructed with 2"x2" strong steel tubing. Containers can be customized and finished off to your liking.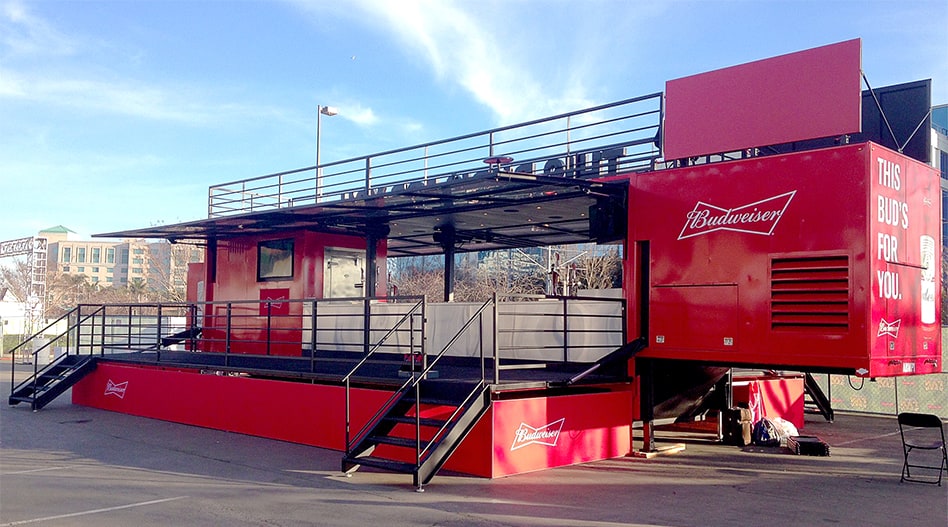 BEAUTIFUL SCHWEISS HYDRAULIC NEON LIGHTED DOOR GOES ON
BALTIMORE'S UNDER ARMOUR HEADQUARTERS AND STORE
DESIGNER DOORS / HYDRAULIC DOORS
Schweiss Designer Doors don't get much better than this. One of the most beautiful and functional hydraulic doors Schweiss has ever built and engineered is featured on the Under Armour Headquarters and retail store building in Baltimore, Maryland. This very attractive and unique metal perforated hydraulic one-piece canopy door is a showpiece for their office building and store. The 28 ft. 10 in. wide x 14 ft. 140 mph wind rated door features two distinctly lighted Under Armour billboard-style logos which can be seen for miles around.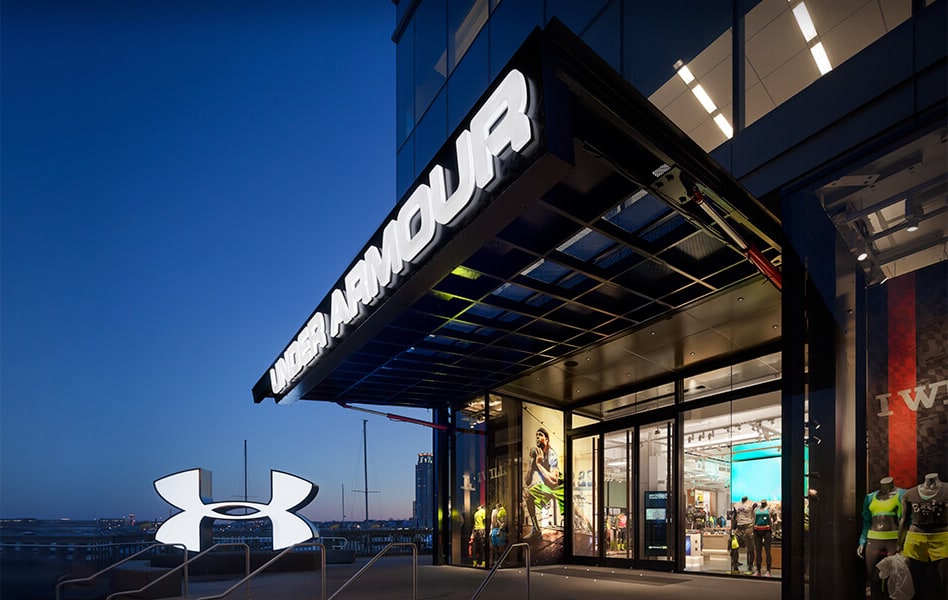 "
"
When people come to look at my floor heat systems, they clearly get an opportunity to look at my Schweiss doors. The doors are cool and Mike (Schweiss) is cool; he's sent me business over the years. I like the idea of movable walls and I like the hydraulic doors because you have a covered and shaded canopy space outside.
Theo Johnson
Roanoke, Indiana
Under Armour is headquartered in Baltimore, Maryland, in a loft/warehouse-style space in the Cheer Building. They're right on the water, on the historic Inner Harbor. The location is incredibly convenient, and many teammates walk, bike, skateboard, or take the water taxi to work every day.
When you're there, you can sit on the deck and admire the Schweiss hydraulic door as it opens for business and get some fresh air, enjoy a nutritious lunch at the Humble & Hungry Café, or maybe even grab a game of hoops at the Under Armour Performance Center. Work hard, play hard... that's what they do here.
This Just May be The Coolest Ever Hangar-Home
HYDRAULIC DOORS
It's a house. No, it's a hangar. No, it's a hangar with a house inside. No, it's... Well, it's all of the above for 62-year-old Daniel Shaw, a plumbing contractor at Geneva, Fla. Who has given new meaning to the term "hangar home."
The structure is 50' wide x 60' deep x 30' tall, all metal/ However, a 45' x 15' Schweiss hydraulic door sporting a wrap-around porch with decorator railing, table and chairs, a "walk through" door with stylish window, and veranda "roof" gets your attention. Even more so when this big hydraulic door opens and entire patio deck lifts with the hydraulic hangar door.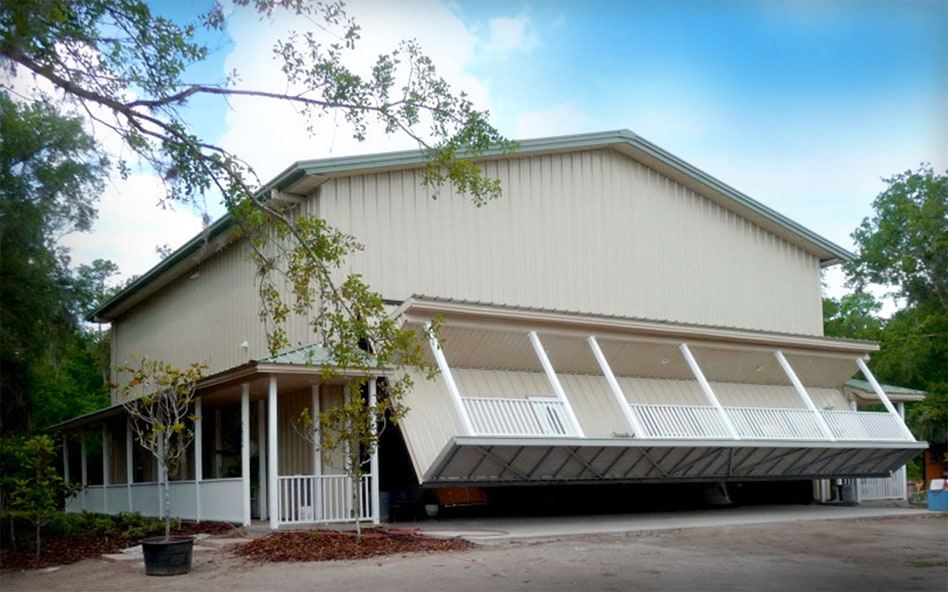 "It started with the idea that I wanted a hangar home that didn't look like a hangar," said Shaw as he reflected on his one of a kind structure. "Hangars are basically ugly." "We wanted to jazz ours up just a bit," he said. "When you drive up to it and push the remote button people are absolutely amazed!"
"
"
It started with the idea that I wanted a hangar home that didn't look like a hangar. Hangars are basically ugly. We wanted to jazz ours up just a bit. When you drive up to it and push the remote button people are absolutely amazed!
Daniel Shaw
Geneva, Florida
And with good reason. The interior represents a quaint European street scene complete with hotel entrance and 2nd floor walk-out balcony. To the left, there's a working tavern with bar stools and a false-front ice cream store.
To the right, a laundry room, office and fake "yarn barn." Upstairs hosts a master suite with bedroom, closet and bathroom.
The black-painted interior ceiling features both star lights and mood lighting, excellent for movie viewing when the big hydraulic hangar door is shut. Ironically, Shaw doesn't even live in the lavish hangar; it's his "guest house."
He lives across the runway. Shaw said when he told the Schweiss door people that he wanted a four foot metal truss across the front of the hydraulic door, they were skeptical. Traditionally Schweiss designs an 18-inch reinforcing truss for their hydraulic doors. The Schweiss team wasn't initially aware of Shaw's full-width veranda porch being built into his hydraulic hangar door.
But they got excited about the unique challenge. "If you think it, we can build it," has become the working mantra of the Minnesota based firm which thrives on the business theme that the customer drives the deal. "We wanted to make certain that our hydraulic door helped bring Dan Shaw's dream alive," said Mike Schweiss, CEO of Schweiss Doors. So they juggled computer-driven templates and welding dynamics (including a larger hydraulic system for the heavier hydraulic door) to better facilitate the unique ideas incorporated into his remarkable hangar home.
To put it mildly, the place glitters with his decorating schemes. "I call it Danville," chuckled Shaw, "And I'm the Mayor." Danville sports its own community bar with fashion-smart bar stools. A working LP gas fireplace adds comfort to the tavern. Plus there's a 14' x 15' downstairs library/guest bedroom.
His huge living room with 30' ceiling even includes a 26' tall palm tree; also an oak wood stairway to the second level master suite area (an elevator also provides lift service to the upper floor) which has a 15' x 21' master bedroom; 8' x 10' closet and a sizeable 10' x 15' bathroom.
His 'finish and trim' carpenter was a young man who coincidentally was in his son's Cub Scout troop 17 years go. This master wood finisher did the classic crown moldings and other special trim features that give Danville a very detailed look. Even the California style master closet upstairs has built in shelves and dresser. And perhaps because Shaw is a plumbing contractor, his hangar home has three bathrooms.
He flies his 1946 Piper J3 - upgraded last year with and 85 hp engine - or his 1980 Cessna 172 with 180 hp engine and STOL wing. Danville hosted its first neighborhood party the weekend of May 9-10 to celebrate the annual association picnic of this 45-acre airstrip located "almost next door" to the Kennedy Space Center and which includes eight building lots on Lake Harney (St. John's River basin) near Orlando.
Both to provide comfort from summer heat and the cooler winter season, the outer building was insulated with a vinyl/fiberglass insulation typically used on metal buildings. However his wood frame "inside house" also has six inches of insulation.
The entire structure is air conditioned including a five-ton unit for the main hangar area. LP gas provides energy for furnace heat as needed.
Engineering specs called for a 120 mpg wind endurance criteria. Conventional property insurance worked for this facility. Shaw estimated Danville cost him $225,000 "...but that was because my neighbor Joe Pires, who also built a hangar home, worked closely with me on the design and actual construction," he said. "To keep the cost of Danville low, I didn't enter the concept with a fixed material list," Shaw continued. "You have to build with the flow of what you can find." And I must admit, I'm pretty good at scrounging, plus Joe searched Craig's list for some super buys."
Pires, a financial planner who also flies gyrocopters, bought one of the lots from Shaw but didn't have any construction background. People buying lots on this private airstrip are required to build a house before they can build a hangar. "But if you build a hangar house prior to building your home, you have housing for your airplane plus a place to live while building the house," Shaw said. "And when it's all done you have a very unique guest house."
He endorsed the design strength of the Schweiss hydraulic doors saying the extra-weight of the wrap-around porch posed no problem for the powerful hydraulic system.
Schweiss Doors Announces New 20,000 Sq. Ft. Factory Expansion
HYDRAULIC DOORS

"
"
We understand hydraulics because we do a lot of hydraulics. The Schweiss door is a well-designed and impressive door that's thought through and it looks great. The hydraulic door is basically used by the sheriff's office. That particular room is designed for multi-media to set up their cameras on an adjoining patio in case of a disaster.
Jim Robinson
Castro Valley, California
The large building offers more than 20,000 square feet of assembly space for Schweiss engineering purposes. Additionally, the electrical room is directly attached to Schweiss's existing warehouse and manufacturing plant, effectively centralizing all the operations at the company headquarters under one roof for greater efficiency.
The steel framework of the new facility and layout utilizes the spaces close proximity to the sales and marketing teams. The new building has energy-saving in-floor heat, overhead cranes, a large 45 x 16 ft. entrance door, a 18 x 16 ft. door along with a 16 x 16 ft. fast-opening hydraulic side door. Utilizing a five overhead trolley system, it's easy to move those hydraulic cylinders and new style Red Power units easily throughout the electrical room.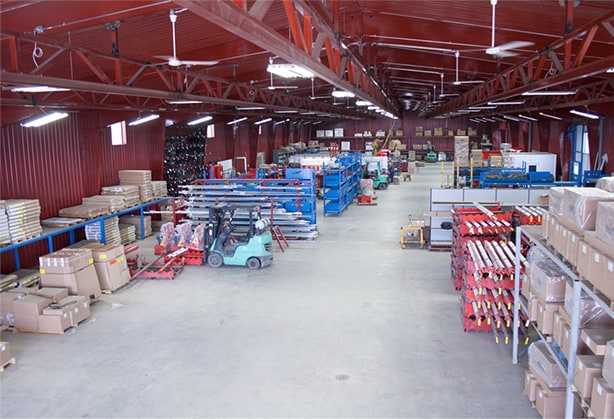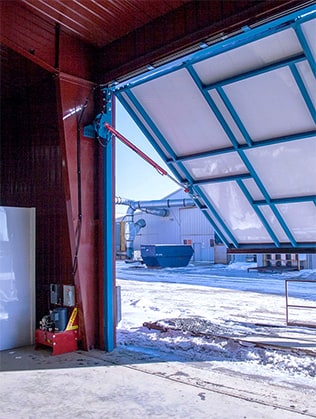 Attractive and energy-saving liner and insulation packages
Schweiss Doors, always at the forefront of technology, also figured out a better way to insulate your hydraulic doors with their new insulated panels. These cost-efficient and eye appealing interior lightweight durable panels with interlocking edges fasten to the exterior of the hydraulic door frame cutting down installation time and they provide a fully insulated thermal barrier, adding to the R-value of your hydraulic door.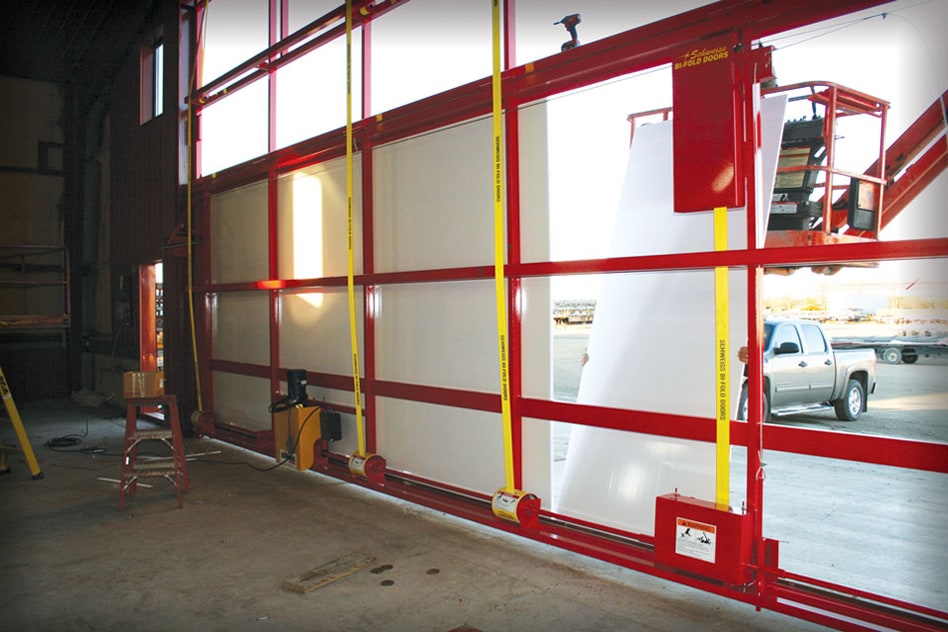 "
"
The doors are a high-quality product that we would welcome using again. The install was easy; everything went in fine. The most difficult part was on the electrical side; the doors are wired into smoke, fire and security systems. If there is a security breach in any of Genentech's buildings the doors will automatically shut. The best part of using these doors was Schweiss customer service. Paul and Brent at Schweiss Doors maintained their patience and helped us through.
Jeff Farmeson
Rancho Cordova, CA
Our new building has also streamlined the process of delivering our newly introduced Schweiss liner/insulation packages that are now being offered to Schweiss hydraulic door customers. The clean looking, highly durable energy-saving liner/insulation package stops the cold transfer because the panels mount on the exterior of the hydraulic doorframe. Highly reflective, durable liner package panels install quickly and easily with no exposed fasteners. The panels are stain-resistant, low maintenance and easy to clean. New to the hydraulic door industry, it is the hottest insulation product on the market for large moving hydraulic doors.
Schweiss Introduces New Easy Access Container Unit
If you need an accessible storage unit, Schweiss Doors has the answer.
These newly designed Schweiss hydraulic containers are perfect for a number of uses:
• Safe and Secure Portable Sheds
• Workshops
• A Mobile Office
• Storage for Farm Seed and Chemicals
• Hunting Shack
• Band Stage
• Food and Beverage Stands
They can be used for most anything you can imagine and designed to meet specific needs.
Custom-built from the bottom up, the new Schweiss Container with hydraulic garage doors are manufactured with specialty cylinders for Schweiss Doors only. The hydraulic containers are unlike any other because they provide simple access to portable storage. Check out Schweiss Europe's trade show tour of the Schweiss Hydraulic Container Door.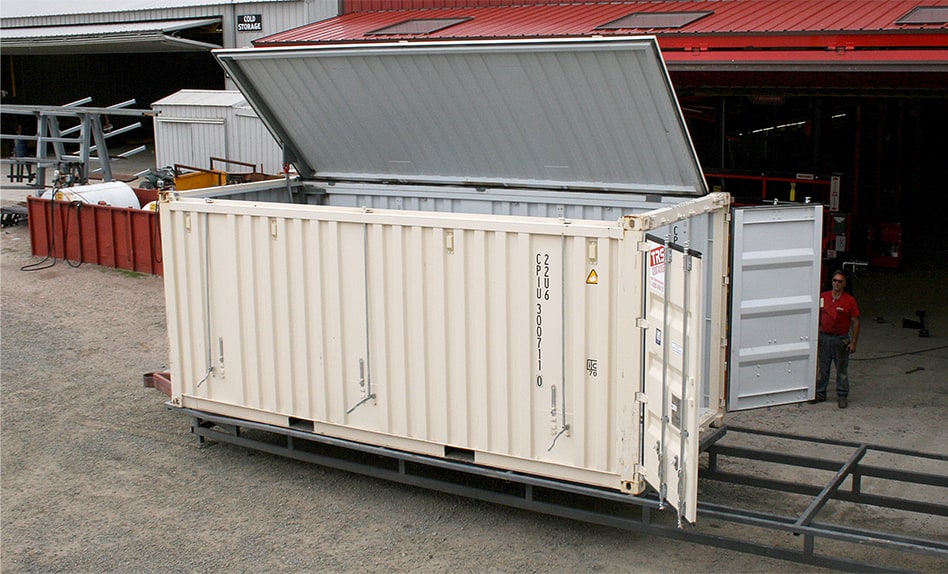 Schweiss Doors Announces Greasable Wrap-Around Hinges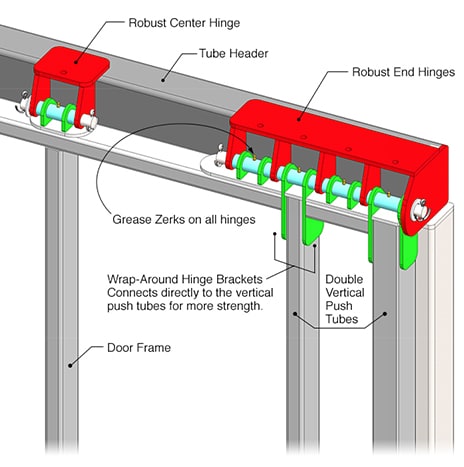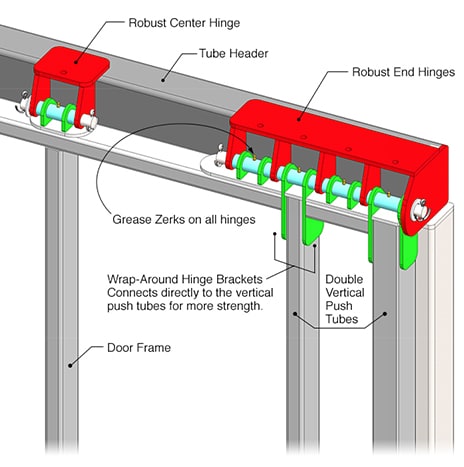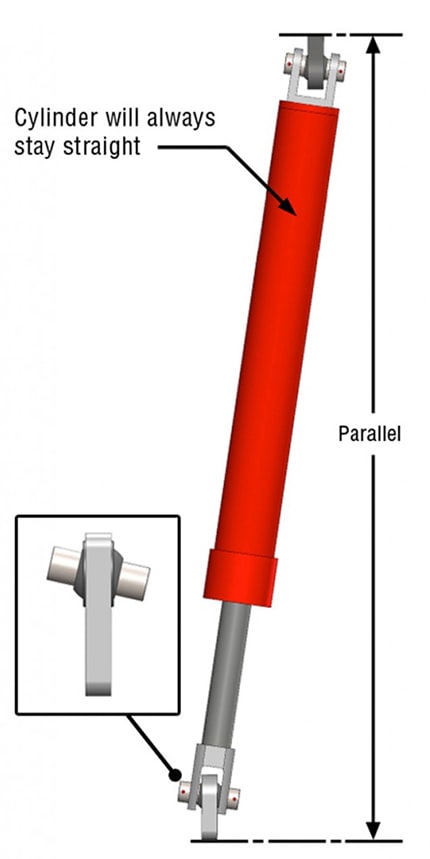 Schweiss's engineering team didn't only wrap its head around the hydraulic door lines, they went a step further and came up with a robust and user-friendly, greaseable hinge and removable hinge pin design.
The new hinge design with grease zerks on every hinge allows Schweiss hydraulic door users to grease their hydraulic door hinges from the underside of the hydraulic doorframe without having to go through the cumbersome process of removing the top rubber weatherseal.
The wrap-around hinge brackets connect directly to the vertical push tubes for added strength. Double push tubes on the outside and an inner push tubes evenly distribute the forces of the hydraulic beefed up cylinders to the hydraulic doorframe. An all-steel welded hydraulic doorframe provides a clean, strong design using no wood or screws.
Another of Schweiss Doors latest innovations is the incorporation of "spherical" bearings in all of its popular hydraulic one-piece doors. These bearings are critical to the safe and smooth operation of a hydraulic door and extend the life of the hydraulic door.
Spherical bearings are located between the teardrop area and cylinder plate at each end of the hydraulic doors lifting and closing power cylinders. Hydraulic doors are always moving and flexing and can force undersized cylinders into a banana shape. Cylinders are not designed to bow, and our spherical bearings prevent it from happening. Bigger Schweiss hydraulic door cylinders won't bend or break!
Spherical bearings are not something new; they have been used in car suspensions, engines, driveshafts, heavy machinery and many other applications throughout the years. But they are new to the hydraulic door industry and no other hydraulic door manufacturer uses them.
"This is another exciting step in the growth of Schweiss Doors," said company owner Mike Schweiss. "We are committed to making Schweiss "Brand Name" hydraulic doors the clear destination for customers to experience and get the best service and product in the industry and to continue having us looked upon as the industry "Door Leader." The new facility better reflects our unique capabilities and provides a perfect match to the high caliber of people who work here every day. Building your own doorframe kit is not only rewarding but can save you thousands of dollars."
For the past 35 years, Schweiss Doors has specialized in innovative door design, engineering, project management and construction of Hydraulic Doors ranging in size from 6 ft. wide to 140 ft. wide and as tall as 60 ft. high. We also offer professional installation crews that travel throughout the country.
For more information on Schweiss Doors, see call 507-426-8273.